Ear Impression
EAR IMPRESSION GUIDE
1. Abstract
 Hisenior custom in-ear monitors are full shell products. Therefore, a full impression of the ear is required featuring at a minimum the crus of the helix, tragus, and anti-tragus. The impressions must be taken with a high-viscosity silicone impression material.
Impressions should be taken past the second bend of the ear canal in the "open mouth" position. In order to accomplish this, a bite block should be used throughout the entire impressions process (beginning when the impressions material is injected into the ear and ending after the impressions material has fully hardened).
Attention Please:

1. Your ear impressions are directly related to the final fit of your custom IEMs. Please follow our ear impression guidelines to ensure the best fit.

2. While we will be work with you to get your fit right, you will be responsible for all inbound shipping, outbound shipping, and customs costs associated with refitting your custom IEMs.

3. If you have any questions or doubts, feel free to DM us from FB/INS/TWITTER or reach us by mail custom@hisenior-iem.com with pictures of your impressions and we can help to confirm.
STANDARD EAR MOLD IMPRESSION
2. How and where to make your ear impression?
1) Search and appoint with local AUDIOLOGIST and get your ear impression made.

2) Search and visit local Hearing-aid stores and get your ear impression made.
3. How can i ensure my ear impression is qualified made?
1) what a perfect-made ear impression looks like?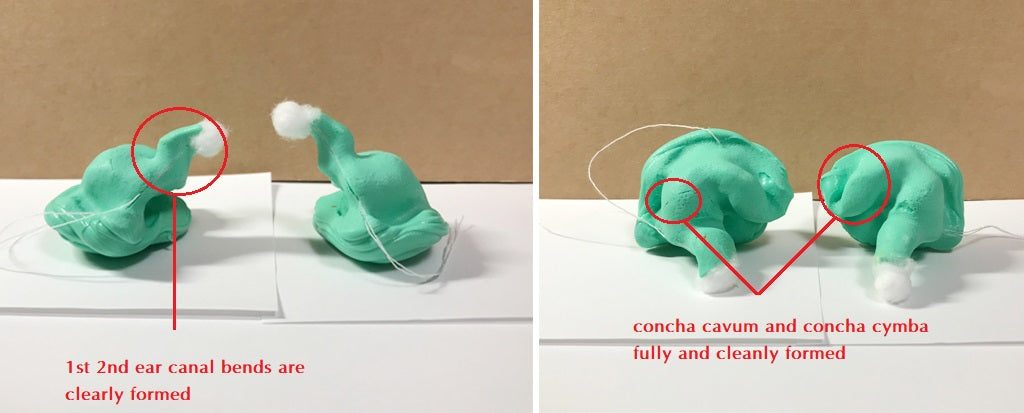 2) what a bad-made ear impression looks like?

3) Make sure your mouth open (especially for whom needs sing the songs on stage) and excess material is extended out of the tragus. Directly show audiologist below photo if they are not clear about the ear impression we need. (fully covered concha cavum/cymba,excess material out of the tragus) 
4. I have my ear impression ready, what should I do?
1) Take photos of your ear impression as below angles and directly message the photos to us from FB/IG/Twitter or email us CUSTOM@HISENIOR-IEM.COM for quality check. 
2) I. Ear impression not good, we will mark out and invite you to re-make the ear impression.

II. Ear impression well-made, then carefully pack and ship the ear impression to us. (Please attach your ORDER SHEET as below| Print or write with a paper)
 Order Number: 
Model:
Shell and Faceplate design: Left: /Right:
Contact Information in English:
5. Anything I need to notice for the shipping? 
1) ship to address (please contact us to get our address)
2) ship by EMS/POST (better and faster local custom clearance)
3) standard declare 10$ commercial value of the EAR IMPRESSION

 
I Have Questions, Directly Message us